We must begin this bit of self-indulgent drivel by stating emphatically that, were this a list of our top five historical hearthrobs as opposed to a Victorian one, our number one choice would be, bar none, Percy Bysshe Shelley, whom we have loved beyond reason ever since we were twenty-seven years old and first read Newman Ivy White's exhaustive biography of the divine poet and fell madly and unabashedly in love with all things Shelleyan, while at the same time developing a restrained distaste for Lord Byron, who was not only less attractive both physically and intellectually, but much less interesting and much too misogynistic for our enlightened sensibilities.
But since it is, in fact, a list of our top five Victorian heartthrobs, and PBS died on July 8, 1822 at the age of twenty-nine we must leave our passion for him in the age of the Romantics and focus on the sepia print sexpots of the subsequent generation. So, then, in no particular order...
Thomas Alva Edison knew how to light up a room



A big brain is about the sexiest organ a man can have, but it doesn't hurt that Tom Edison also happened to be relatively good-looking for a 19th century inventor. Posterity may remember the creator of the phonograph, the electric light bulb, kineophone and other technological miracles as an aging, white-bearded genius brainstorming in his Black Maria in Menlo Park, but we prefer to think of him as he was in the above photograph taken in 1878: a handsome, brilliant, somewhat awkward young man with the future of modern technology in the upper lefthand pocket of his waistcoat.
Frederic Chopin was called "the poet of the piano"



Frederic Francois Chopin may have only been a Victorian for the final ten years of his life, but that's at least more than Ludwig "Beloved" Beethoven can say. The tortured Pole who penned some of the most beautiful music of all time (including Nocturne in E Flat Minor, the name of which inspired the title of this blog) did more for posterity during that single decade than most men do in an entire lifetime. Sickly with an unnamed disease (probably tuberculosis) which eventually killed him and in love with a woman with whom he was never destined to find happiness (French writer and hellcat George Sand), Frederic Chopin was a Lothario of the piano whose music still touches us in a place where his fingers never could have gone.
Robert Barrett Browning, we love thee despite thy hair

Like his predecessor Percy Bysshe Shelley, Robert Barrett Browning was less famous than his wife, Elizabeth during their marriage. Unlike Shelley, Browning went on to enjoy a larger measure of fame after his wife's death, while Shelley simply died an unsung, premature death. Neverthless, we forgive Robert B, not only because it wasn't his fault, but because he himself was a true poet, in life, love and language. But most of all because there is absolutely nothing sexier than a man who is as deeply in love with his wife as he was with his, even if he did have what we consider to be the absolute worst hairstyle we have ever seen in a portrait from the 1840s.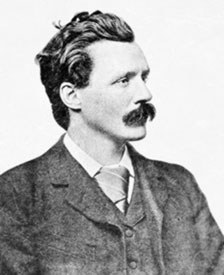 George Gissing: A bad boy with a gift for writing classics
A ruggedly handsome ne're do well from Yorkshire, England, George Gissing once served hard time for stealing clothes and money to support his prostitute girlfriend. But of course he went on to write 19th century classics like "An Odd Woman" and "Workers In The Dawn", making him a bad boy with a brilliant mind, and we admit that we're impressed. Best of all, George is one of those rare Victorians who we can imagine still looking good sans waistcoat. Don't you agree?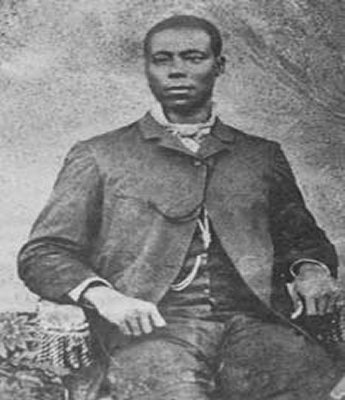 Thomas Jennings could take us to the cleaners



Thomas Jennings was not only the first black American to receive a patent (for a dry cleaning process in 1821), he was a handsome, brilliant inventor (like our Thomas E) who poured almost every penny he made into the mid-century abolitionist movement. And the fact the fact that he was born a free man in New York City didn't stop him from using some of his earnings to secure the "purchase" of family members who were enslaved in the South. We just love an idealistic man, and when he happens to be good-looking as well, we can but reach for the smelling salts and pray that something will break our fall.