A parent's pride turned to pain
We were saddened last weekend, as were many people, to hear that British singer Amy Winehouse had died from what most assume to have been a drug overdose, although the official cause has yet to be determined. While we would never be so crass as to make public assumptions regarding the reasons behind Miss Winehouse's death, the tattooed songstress whose black-dyed beehive, Cleopatra-esque eyes, and contralto growl set her apart from other, less creative singers of her generation, we would not be surprised to find that drugs were involved. The artist whose 2007 album "Back In Black" won widespread critical acclaim and whose single "Rehab" set the pop charts aflame was a recovering drug addict who had been besieged with set backs in recent days, according to her father,
Mitch Winehouse
, who claimed that he had urged his daughter to enter rehab shortly before her death. Sadly, she refused to comply and was found in bed by a member of her security team around 10:00 last Saturday night, dead at the age of 27 in her house in Camden Town in North London.
.
Still, despite our sadness, and our almost unholy desire to expound on the obvious connotations surrounding the death of any rock star at the age of 27, we are moved to tell you about our own sighting of Miss Winehouse when we were visiting London last April. On our second evening in there, as we were walking through Camden Town (we're very fond of its cobblestone streets, dark alleyways, and19th century storefronts underscored by the ever-present scent of lamb curry) with our elder son, we spied a tiny figure with a black beehive and an excess of eye make-up being hoisted up into the air by an apparent member of the local Reggae music contingent (he wore dreadlocks and was standing outside of a club in which reggae music was playing at a wondrously loud volume).
Amy's afslappede look
The artist's more serious side
"Hey, that woman looks like Amy Winehouse," my son remarked."Yes, she does," I agreed. "If Amy Winehouse were the kind of person who went out in public in a green polo shirt and ordinary jeans, which, based on what she's usually wearing when photographed, doesn't seem likely."
A few moments later, we were close enough to see that the woman with the black beehive being hoisted into the air was indeed Amy Winehouse, albeit in oddly conservative clothing, a fact which made me wonder aloud why she would spend what must be a great deal of time fixing her hair and applying copious amounts of make-up to her face only to walk around Camden Town in a polo shirt and jeans.
The next night, I asked the question of my London friend, Dawn, with whom my son and I were having a lovely Italian dinner (I'm sorry, but one simply does not go to London for the cuisine). She smiled at me over her wine.
"You're lucky you didn't see her walking around Camden Town in her bra," she said. "She walks around in her bra a lot. The paparazzi are always taking pictures of her.
"So, in a way, we saw an unusual side of Amy Winehouse," my son said.
"Yeah, you could say that," Dawn agreed. "Amy Winehouse, fully dressed in boring clothes."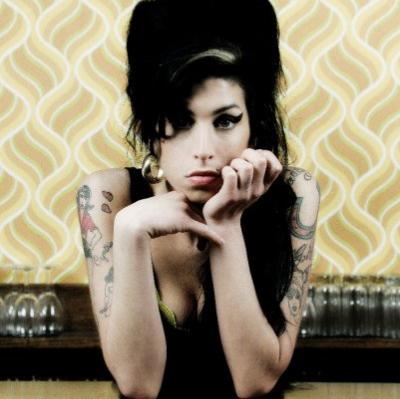 The iconic image
We cherish the memory.
In an unrelated stream of consciousness, we are also concerned this post with something that a friend sent to us this week via email. It was the picture of a dog whose fur had been dyed to resemble that of a Bengal tiger. Now, there are very few animals that cause our hearts to palpitate with excitement more than dogs and tigers. But we had never entertained the thought of seeing the two merged into a singular, strange package. It was more than a bit disconcerting. And not only that, it called to mind something that we had forgotten about over the last several decades: our childhood longing for a pink poodle. Allow us to elaborate.
Tiger, tiger burning Brighton Beach
When we were growing up in the sixties, we wanted more than anything in the world to be Miss Barbara Feldon, the actress who played "Agent 99", smart, sexy, sassy sidekick to Don Adam's Agent 86 in the popular television series,
Get Smart.
Barbara Feldon had 1960s sexiness in lockdown
We knew this was impossible, of course, because, although we were fanciful, we were not stupid. And eventually, we were able to wean ourselves from the desire to be Barbara Feldon and focus our salivating attention on...wait for it...acquiring a pink poodle.
A poodle in the pink
Is he embarrassed around other dogs?
Through no fault of their own
We would have gone with the white
In the mi-sixties, roughly 1964 until 1966, it was very common practice for poodle owners to dye their dogs pink or blue or even yellow or green. We're not certain how this practice began, or in what regard it was held by animal rights activists of the time, but as a child we were besotted with the idea of owning a pink poodle on whose neck we would insist on placing a rhinestone collar that would gleam and shine like the distant lights of New York City where, we imagined, most people who owned pink poodles were destined to end up eventually.
.
A pink poodle's island paradise
A reward for hitting something
No Shirt, No Shoes, No Fair
The progeny of extremely religious parents, we were not allowed to attend classic summer events such as fairs because, according to the man who yelled and screamed behind our church pulpit every Sunday, fairs were "worldly places" where bad people congregated in order to do terrible things to unsuspecting Christians. As a result, we spent many a summer night staring longingly out the car window as our father drove past the local fairgrounds en route to drop off our mother at the hospital where she worked as a nurse. The Ferris Wheel, the Carousel, and the Roller Coaster, the holy trinity of summer fairs and amusement parks, were nothing more than a swirl of lights in the distance, but the faces of the children leaving the fairgrounds were as bright and joyous as the sun. And the one that looked the happiest belonged to a child who lived on my street and who was clutching, of all things, a stuffed pink poodle.
We learned later that the child in question had won the poodle playing some game that involved throwing something at something else, and that it was one of several pastel-colored poodles available to winners of said game. Having already been told by our parents not to anticipate becoming the recipient of a flesh and blood pink poodle at any time in the near future, we developed an almost pathological desire to sneak into the fair the following night and attempt to win a stuffed pink poodle of our own. We hadn't the courage to do such a thing, though, and had all but reconciled ourselves to that fact when the boy who lived next door to us offered to win a stuffed poodle for us instead.
"All you have to do is hit three stupid pretend ducks with a ball," he explained. "A retard could do it. Or even you."
We begged to differ. He smirked like a nine-year-old Steve McQueen.
"Never mind. I'll get one for you," he said.
A hero sandwich would have sufficed
Overcome with joy at the prospect, we went to bed on the designated night with butterflies beating their wings madly against our insides, causing us to experience a faint sense of nausea. When we awoke in the morning, we forewent breakfast and raced next door to claim our poodle. But it wasn't there.
Please tear out my eyeballs
"I didn't have a chance to do it," our erstwhile hero explained, with a sheepish shrug. "My sister got sick on the roller coaster and we had to come home. Man, I hate girls. They spoil everything. I wish they'd send 'em all to Viet Nam. But since I didn't get you the poodle like I promised..."
He handed us a Kewpie Doll, a six inch high horror of pudgy, pale naked skin, over-sized eyes and cutesy smile. Words eluded us.
"My sister won it playing ring toss," our hero said. "But she doesn't need it anymore."
When has anyone ever
needed
a Kewpie Doll? In Hell, perhaps, to frighten away the demons?
We thanked him and left with the doll in hand, disposing of it as soon as we reached home so that it could never horrify anyone else again.
But it was the final nail in the coffin of our pink poodle dreams. Never again would we believe so readily or so strongly in our right to have what we want simply because it's what we want. And never again would we picture a pink poodle in a rhinestone collar without the repugnant face of a Kewpie doll blocking a portion of our view.
Epiphany Pink , one color fits all