The soul of brevity
Yearn to be a Victorian player? We've found the perfect site to help you hone your skills. You won't find links to winsome ladies or hot, but well-mannered gentlemen, but you can learn how to play games like

"The Ball of Wool" and "Shadows." Yes, we're talking about parlor games. A visit to

www.victoriaspast.com/ParlorGames/parlor_games.htm
will teach y

ou all need to know in order to excel at the games that kept Victorian era men and women from dying of boredom whilst sitting around on brocade furniture waiting for the Industrial Age to pick up steam. Just remember not to overdo it because, as we all know, too much fun is the devil's playmate and the handmaiden of havoc.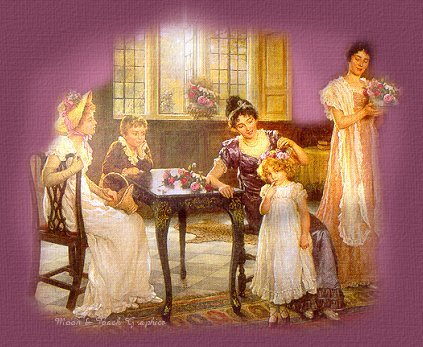 The family that plays together, stays together
They had to pay a forfeit
But they didn't mind
We don't know what this is, but we're sure it's delicious
As for food, it's high time someone spoke out with the skinny on steampunk cuisine. It's beautifully done at c
astlesandcooks.com/2011/05/16/what-is-steampunk-cuisine
where you can learn everything you need to know about a style of cooking that has one ladle in the past and another in the speculative future. And since steampunk cuisine is becoming so popular across the continent, it only makes sense to familiarize oneself with something that could soon be sitting on one's dinner plate. So grab the proper fork, eat (figuratively) and become edified.
The steampunk kitchen of one's dreams
We are anticipating a busy week with not much time for blogging, so we would like to leave you with a final thought from the Victorian era. It is as follows:
How sharper than a serpent's tooth it is to have a thankless child.
We find that one especially pertinent. However, if your children happen to actually be thankful, or you have no children, perhaps the following will be more to your liking:
Protect yourself from other people's bad manners by a conspicuous display of your own good ones.
No? Well, then, choose your own pithy utterance at
Victorian Sayings and Words of Wisdom: Witty Quotes and Tips on Health, Wealth and Happiness. | Suite101.com
http://www.suite101.com/content/victorian-sayings-and-words-of-wisdom-a91723#ixzz1TlUOeJer
Have a lovely week and remember to polish your spats and monocle whether they need it or not. And, as always, don't put anything into your mouth until you can identify it and someone else can provide the necessary verification.
Ta.